TRACEABILITY
Global track and trace solution to secure your supply chain
SERIALIZATION
Unique, secure and encrypted product identification
ANTI-COUNTERFEITING
Secure your supply chain and protect your products
Inexto has launched SerialTrac® – a complete compliance serialization solution that meets all the requirements of current and impending pharmaceutical serialization legislation.
SerialTrac® has been designed to allow turnkey installation on secondary packaging lines. It is equipped to handle both internally- and externally-generated serial numbers and also offers aggregation functionality as standard, including post-manufacture rework and repacking – essential to any pharmaceutical and medical devices manufacturing process. Its patented data compression techniques reduce the reliance on large, cumbersome and expensive databases. A high degree of standardization means that Inexto is able to offer SerialTrac®  as a cost-effective, scalable compliance tool which can be rapidly installed.
This is the reason why SerialTrac® together with Domino printing solutions got the award of the 'Most Innovative Processing or Packaging machine' for its SerialTrac® intelligent compliance and serialization solution at PPMA Group Industry Awards 2016.
PHARMACEUTICALS
With more than 15 years of experience, Inexto offers proven track & trace solutions. Secure your supply chain and protect the medicines launched on the market.
MEDICAL DEVICES
SerialTrac® is a turnkey solution to secure and trace your medical devices. Non-invasive, SerialTrac® can be implemented easily on your existing equipment and complies to serialization regulations.
PATIENT CARE
With SerialTrac® you can build a direct relationship with your patients and offer them a full customer experience with personal dosage information, eLeaflets, etc.
With the Delegated Acts associated with the EU Falsified Medicines Directive (FMD) now in the public domain, item-level serialization in the EU will be a reality in about one year from now  (February 2019). Marketing Authorization Holders that will not comply with the serialization and anti-tampering obligations will no longer be authorized to sell their products. Many laboratories have already chosen a solution and are currently in the middle, or near the end of their implementation plans. For those who have not yet selected their solution, or if you are struggling to complete the "last mile" of your serialization project, the solution may be SerialTrac®.
If you are a small to medium size company, you might not have the time, resources or infrastructure to create your own bespoke solution, or to purchase and deploy one of the dedicated solutions that are available on the market today.  Many of which do not provide a complete solution suite covering Levels 1 to Levels 4 and 5 (EMVO integration).
SerialTrac® brings compliance in a box, covering Levels 1 to 5 under one project, one partner and one point of contact.
SerialTrac® is a complete solution addressing all the core disciplines, from code generation and management, code application and verification, pack handling, reject and data storage, commissioning, dispensing, management and reporting.
INEXTO has built a consortium of companies with complementary expertise. The result is a proven, 'out of the box' serialization product that combines best in class technological solutions for all aspects of serialization, aggregation, tracking and tracing, combined into a single product from a single supplier.
SerialTrac® is leveraging all possible standardization and modular packaging to provide MAH's and CMO's with a simple solution that meets the master specifications of the EU/FMD regulation, and that can easily be customized to the specific User Requirements from each customer. Other market regulations like the Drug Supply Security Act (DSCSA) from the Food and Drug Administration (FDA) are also fully met.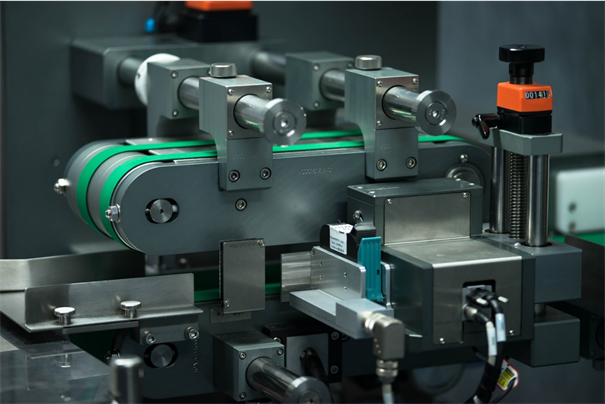 Installation on a typical line can be completed with minimal impact to any production environment.
Compare to bespoke solutions that would require lengthy projects and complex integration and validation processes; SerialTrac® is easy to install with one "plug-in" module covering all levels, from equipment and line level up to factory, company and EMVS interface. SerialTrac® is constructed based on the most advanced standards from the industry (GS1-Cloud for master data collection, EPCIS repository for supply chain event storage). ERP system connector for complementary master data collection and transactional information (production order, batch record).
SerialTrac® is available today and can be deployed in just a few weeks, thanks to the consortium of Inexto partners covering project management, installation, testing, training, validation and technical support.
INEXTO: BORN TO SERIALIZE, TRACK & TRACE
Inexto was "born to serialize", as opposed to pharmaceutical specific or generic ERP/MES solution providers that have looked to extend their offerings with serialization capabilities.  Secure code generation and management functionality is based on the Inexto Suite traceability solution, which is widely proven in the several industry sectors for fraud prevention and tax collection recovery. At its heart is a powerful algorithm featuring asymmetric encryption that generates random codes from a virtually infinite number of combinations.
THE TRUE VALUE OF SERIALIZATION
It is true to say that serialization is more than just applying "a unique number on a pack".  However, it should not be made more complex that it actually is, and keep the ultimate target in mind, which is fighting against falsified medicines!
FMD means Falsified Medicines Directive, and the February 2019 deadline is not just a deadline, but the start of a new era where illicit practices around medicines will be more difficult to achieve to the benefit of patient safety and greater market stability.
So keeping this long term objective in mind is fundamental and this is where SerialTrac® can help.
SerialTrac® is built on 15 years of experience in serializing billions of items globally, across many different and complex environments, making it a truly cost effective and easy to implement solution.  This in turn enables you to focus your budget and time on how best to leverage serialized products, with your distributors/pharmacies and patients.
SerialTrac® provides optionally a unique way to add an authentication capability as a  product is serialized, enabling product identification and authentication to become a simple combined operation available during scanning at point of dispense or directly by patients.
With SerialTrac®, Patient care becomes a reality! By integrating additional data and functionality for each product via the serialized coded, suddenly your patient has access to a whole new experience.  With eLeaflets as a simple first step, additional sophistication can be added via the use of pictograms, the use of alerts combined with time of the day and geolocation, with many other potential capabilities available, all fully respecting data privacy